Running FireWorks in "offline" mode on firewalled systems¶
FireWorks typically requires a network connection between the LaunchPad and the FireWorker to operate. The network connection allows the FireWorker to check out a job from the LaunchPad, and subsequently update the server with the status of the job: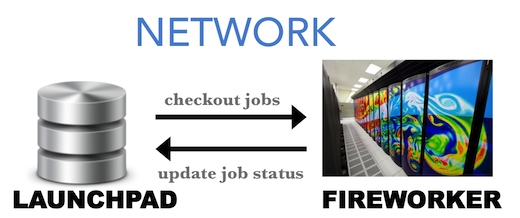 Unfortunately, many computing centers employ an internal system of "compute nodes" that cannot access an outside network. The FireWorker is thus blocked from checking out jobs from the LaunchPad (or updating back the LaunchPad with the job status). There exists no way for the compute node to communicate with the LaunchPad. However, if the login node to the computing center can access the network, we can design a system whereby the login node handles all network connections and communicates with the compute nodes by serializing information as files: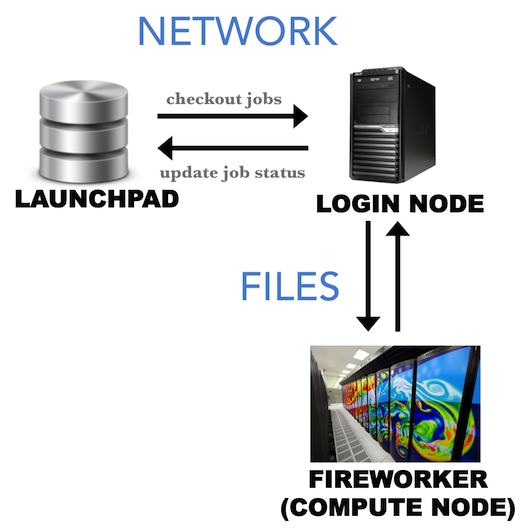 This is the offline mode of FireWorks operation. Before using this option, however, it is important to understand that:
The login node still needs to be able to access the FireWorks database. If you're not sure, try to run a database query from the login node.

The login node needs to be able to write files that can be read by the compute nodes, and vice-versa.

Offline mode can only be used with the reservation mode of the queue launcher, since the login node must checkout and serialize a job in advance of the queue submission starting to run.

Using FireWorks in offline mode requires more human maintenance than normal mode, and generates extra files for communication within each job. Thus, trying to get a network connection up and running between your FireWorker and LaunchPad should always be your first line of attack.